Special Edition #13: The Pop Up Film Cast Presents "Captain Hooktail"
a year ago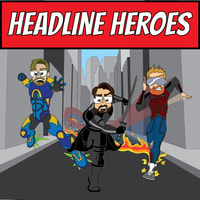 Hey all, recording was tough this week, but we wanted to give you an episode of the Pop Up Film Cast to listen to. This one Drew guested on, and with their hosts Keith and Derek, they created a wonderful pirate adventure, with with swashbuckling fights, cannon fire, and hairballs. If you like what you hear, head on over to the Pop Up Film Cast and give them the ol' subscribe! You can't go wrong!
The Pop Up Film cast can be found at Podbean as well as Twitter.
Find out more at https://headline-heroes.pinecast.co