Special Edition #15: POPUP FILMS PRESENTS: HOOKTAIL 2
6 months ago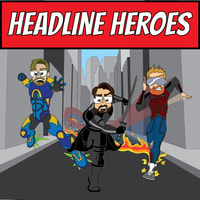 Hello Headline Heroes Fans! This week is a special edition. Due to technical difficulties, we were unable to record properly, so our good friends at the Pop Up Film Cast have graciously let us use one of their episodes that Drew guested on. It's the sequel to their Captain Hooktail hit! Enjoy and listen to more of the Pop Up Film Cast here.
Additionally, we have our Twitter back! However, we did in fact lose all of our followers. It would be a huge favor to us if you could give us a follow! Our handle is linked below! Thanks again and stay super! * Twitter * Facebook * Reddit * Email: [email protected] * Voicemail: 319-596-6766
Proudly a member of the PodFix Network. You can find them at podfixnetwork.com.